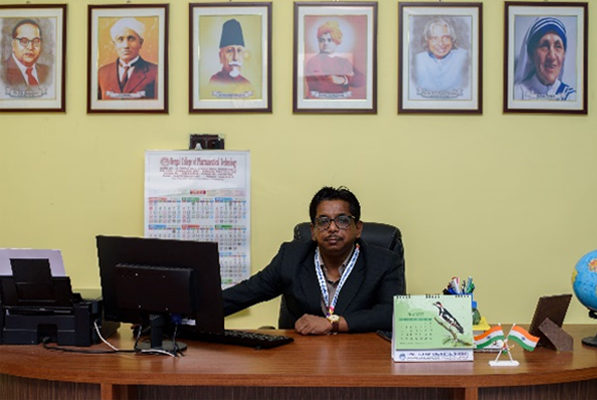 "Education is the most powerful weapon which you can use to change the world."
 Nelson Mandela
At the outset, I wish to extend my warm welcome to you in BCPT family. It would indeed give us immense pleasure that you have selected BCPT platform and given opportunity to us to assist in shaping your professional career. Today, the college symbolizes the meaning of quality education and professional achievement. However, there is ample room for further development since acquiring knowledge is endless process. Pharmaceutical education today is no longer confined to the four walls of the classroom. All round efforts are needed to generate quality professionals. To achieve this we try to provide quality, value based, and activity oriented education to our students.
Our mission is persistently engage ourselves to generate and preserve knowledge, understanding, and creativity by conducting high-quality educational and research activities that benefit students, scholars, and communities across the nation. To share that knowledge and creativity, we will provide a broad range of academic activities for learners and teachers that will help them to work independently in their professional sphere. As educational institution, we value excellence, innovation, diversity of community, diversity of ideas, integrity, academic freedom, collaboration, and accountability of resources and relationships, sharing knowledge in a learning environment, and application of knowledge and discovery to advance the quality oflife.
This institution is associated with a very strong, dedicated and capable team of educators who will serve the driving force in the growth of this institution. So, this institution will not only educate and enable students with knowledge of profession but also inoculate discipline, determination, and dedication.
The college is equipped with well-furnished laboratories, classrooms and library that feeds the brain of students with maximum professional stuff, digitalized computer lab, and wi-fi facilities throughout the Campus. It is only with the whole hearted support, cooperation and confidence of the Management and staff in us that we will be able to fulfill our mission of providing new dimensions to education.
At BCPT, you will learn new concepts, widen your horizons, apply your mind, explore your talent and take up social responsibility to improve the healthcare system and ultimately become ethical professional and responsible citizen.
In conclusion, I also welcome all who shall be joining us as students and wish you all a wonderful intensive knowledge flow on the campus. If, I can be of any assistance, please do not hesitate to contact me and know that my door is always open. I can be reached at principalbcpt@gmail.com. Also, I am honored to serve as your principal.
 "The tradition of excellence is ours; the choice is yours!"
Principal